AASAI initiated general financial support to 'Siva Shantha Trust', a charitable Trust founded in 2002 by His Holiness Swami Shantananda. The Trust serves society through its 'Temple of Service', 'Temple of Fine Arts', and 'Temple of Knowledge'.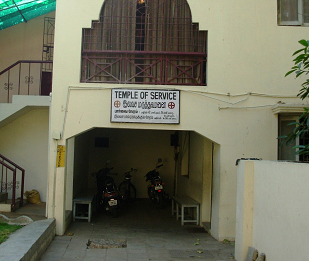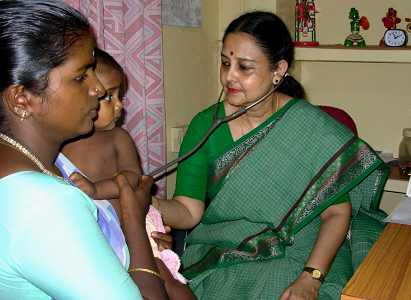 The Temple of Service provides free medical care for the underprivileged through two outpatient clinics in Chennai and a consultation service in Tirukovilur (Villupuram dist), Tamil Nadu. These clinics provide free consultation, medication, immunization and bear the cost of hospitalization when needed.
General and Specialty clinics are run on a regular basis with special emphasis on pediatric care and of the elderly population.
The aim is to provide health education, and preventive and curative health care in a caring and conducive environment. Health camps are conducted to raise awareness of health issues in the public and to provide an opportunity for early diagnosis and intervention. A milk program provides a source of additional nutrition to school children who live in the vicinity of the clinics (Chennai & Tirukovilur). Your support is greatly appreciated.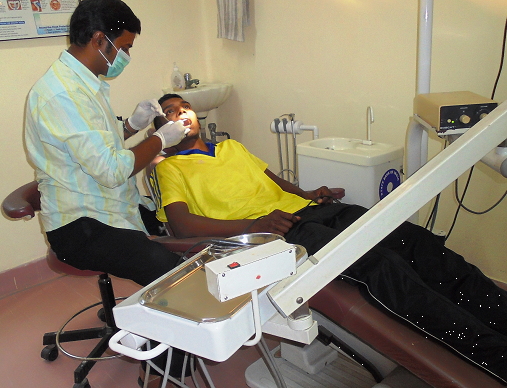 MENTAL HEALTH
AN ECO-FRIENDLY PROJECT TAKES SHAPE TO SUPPORT THE HOME FOR THE MENTALLY DISABLED DESTITUTE
TRUST (Training and Rehabilitation of Underprivileged members of Society, Trichy)
www.trustshanthivanam.org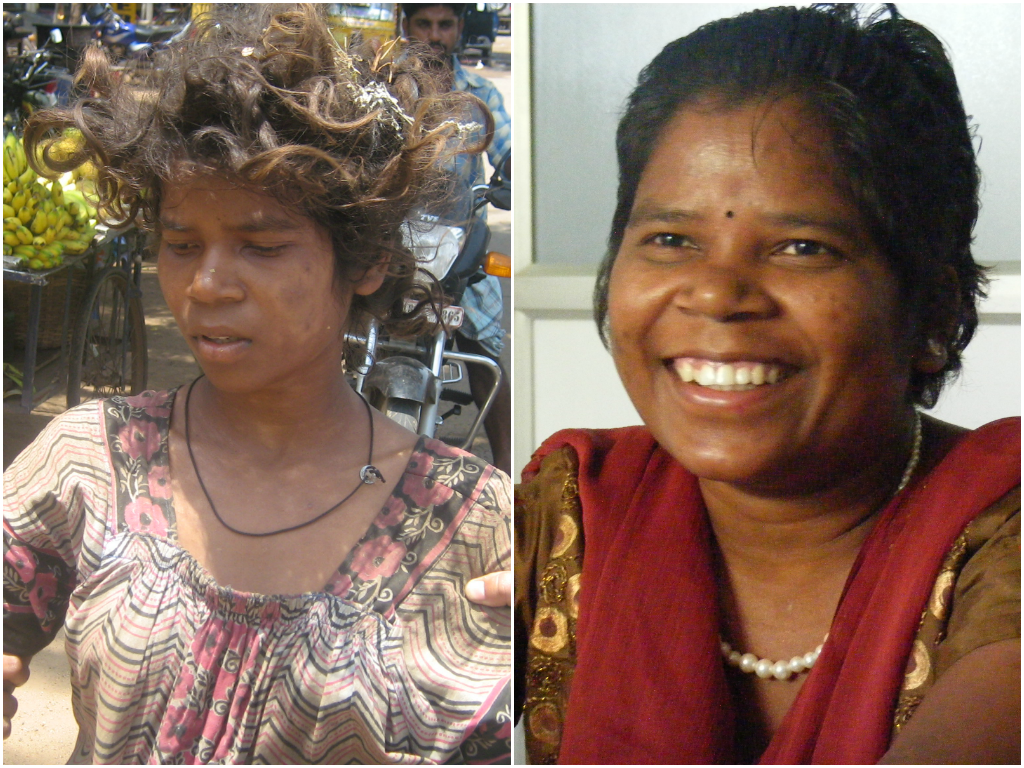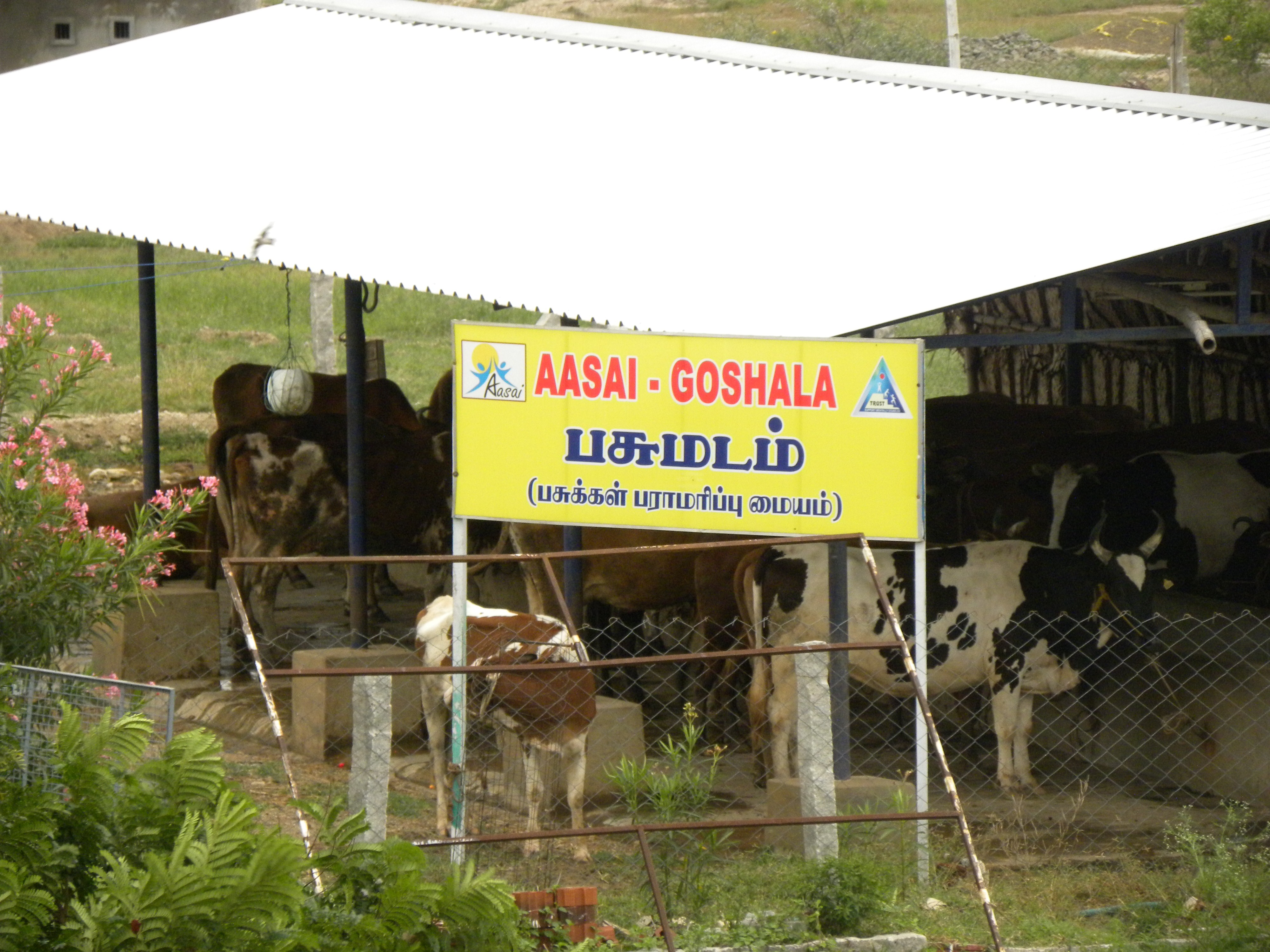 American Association for the Social Advancement of India (AASAI) is a nonprofit organization involved in helping the poor and under-privileged in India. AASAI in involved in supporting several charitable projects in India in the areas of Child Welfare and Education, Health Services for the poor, Home and Welfare for women and the elderly.
AASAI initiated and maintains a collection of eco-friendly projects to support TRUST (Training and Rehabilitation of Underprivileged members of Society), Trichy, Tamilanadu. At its Shantivanam facility, TRUST cares for over 148 mentally disabled and destitute patients.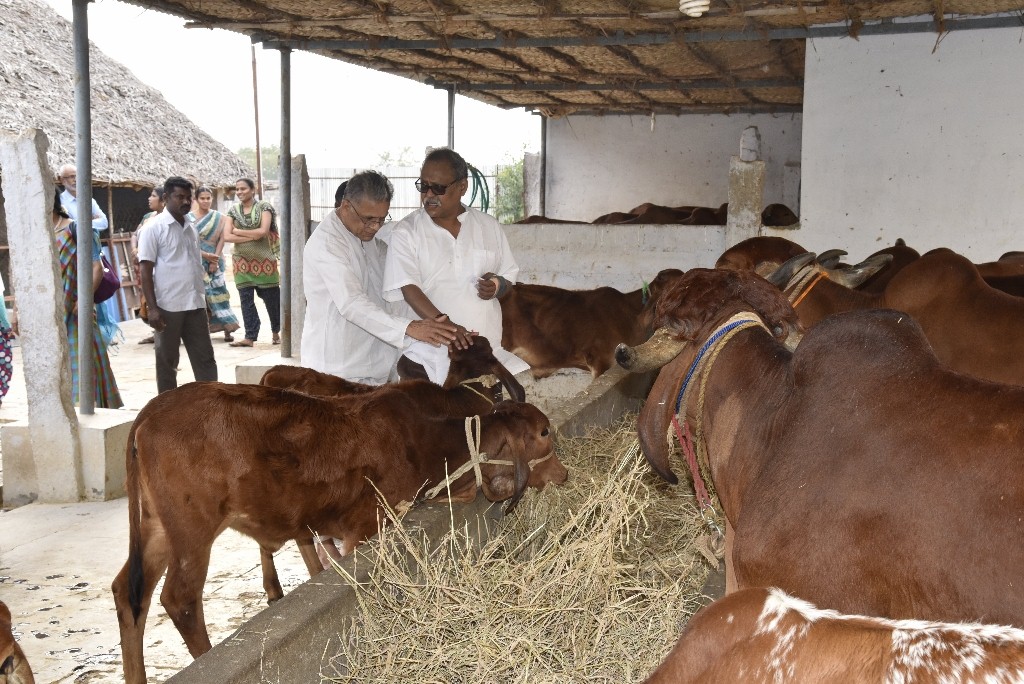 These patients come from all parts of India. They are young, old, poor or from middle class, men, women and children. But they are all unaware of their drifting away from their families and homeless conditions; TRUST provides free and professional care to these destitute at Shanthivanam. After treatment and rehabilitation many of these patients have been reunited with their families (if found) or with foster families. Many of them have also received vocational training and thus live with self-respect and dignity.
AASAI Ghoshala (cow farm) has developed into a valuable facility that is of financial help and therapeutic resource for TRUST . AASAI initiated the Goshala project with a few cows and a place t shelter and core for them. This facility has now 30 cows and 20 of them produce milk enough for the patients. The excess milk is sold in the local market which helps TRUST raise funds for its core project.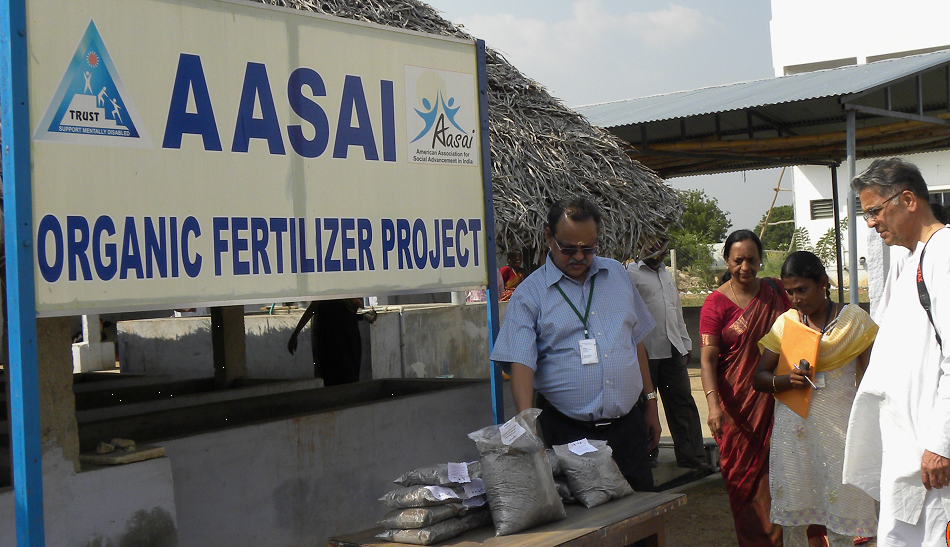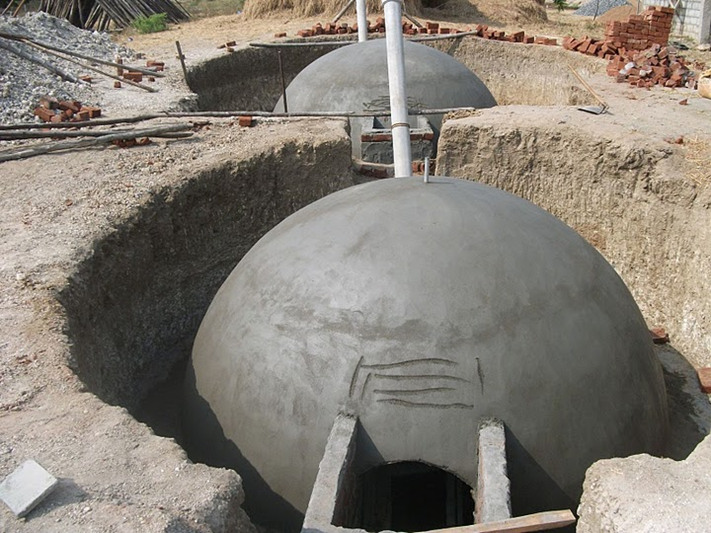 The cow waste is used in the Biogas fuel facility which produces one cylinder worth of fuel per week. This again saves money from not having to buy gas for cooking. Soon the plans are to charge the next larger bio fuel unit, which will yield enough fuel to meet the cooking needs at Shanthivanam kitchen.
These projects were followed by AASAI Green project to reclaim an unused land into a field to grow rice, vegetables and grass (to feed the cows). AASAI also has supported in the building of a residential unit where the mentally ill patients are housed, treated, rehabilitated and eventually re-united with their families. This is a great example of the AASAI approach for sustainability.
Sustainability:
Projects that are individually or collectively
become self-sufficient and sustainable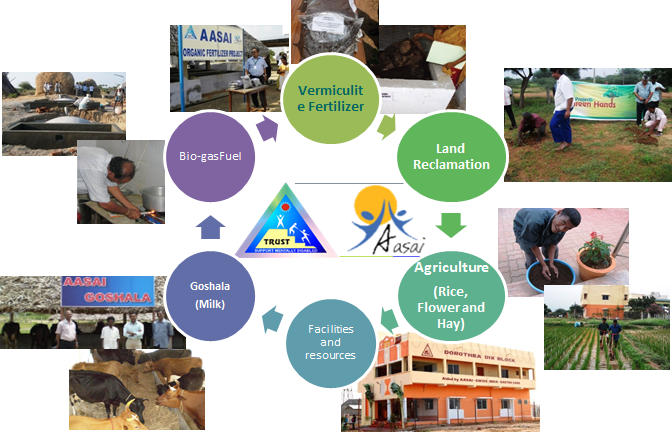 Please donate generously to this project. You can also sponsor a cow ($500), meals for lunch ($100/day). Your cash contribution can also be steered for specific projects. Your generosity besides helping mentally ill contributes to the green environment.
WOMEN'S HEALTH
OMAYAL ACHI Health Center
AASAI Initiates Free Cancer Screening
http://omayaln.com/index.html
AASAI in cooperation with Omayal Achi Community Health Center (Health Center) run by MR Omayal Achi MR Arunachalam Trust (Omayal Trust) initiated breast and cervical cancer screening at villages in and around metropolitan Chennai. The Health Center (Est. 1998) serves the poor in and around 45 villages and provides free health care services in wide range of areas such as General Morbidity, Chronic Disease, antenatal, Gynecology, mental health wellness, children wellness, Dental and Eye care.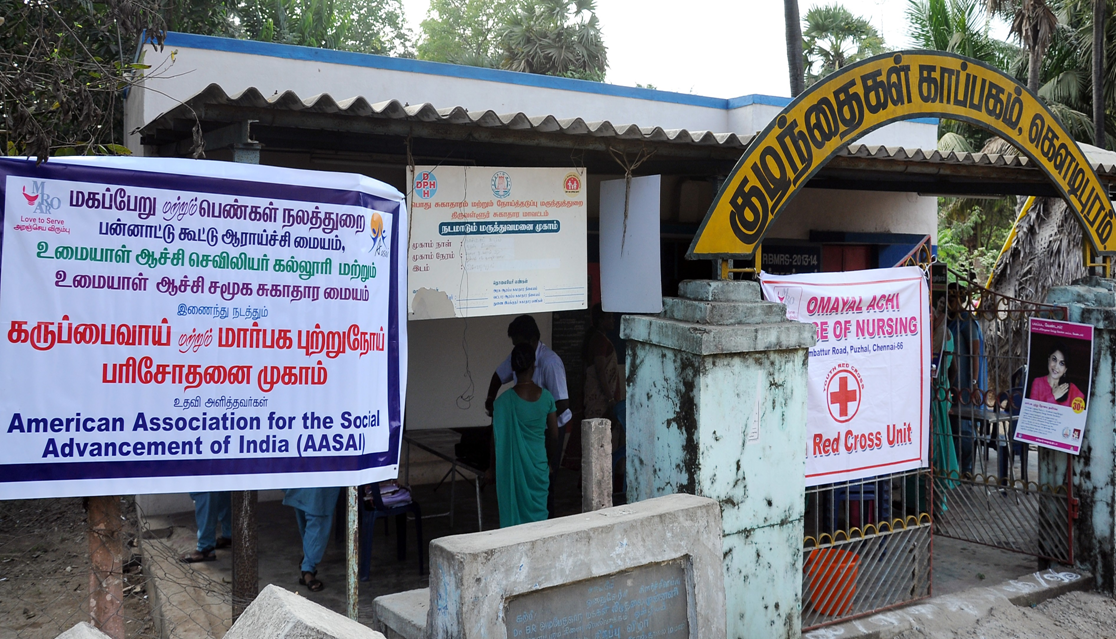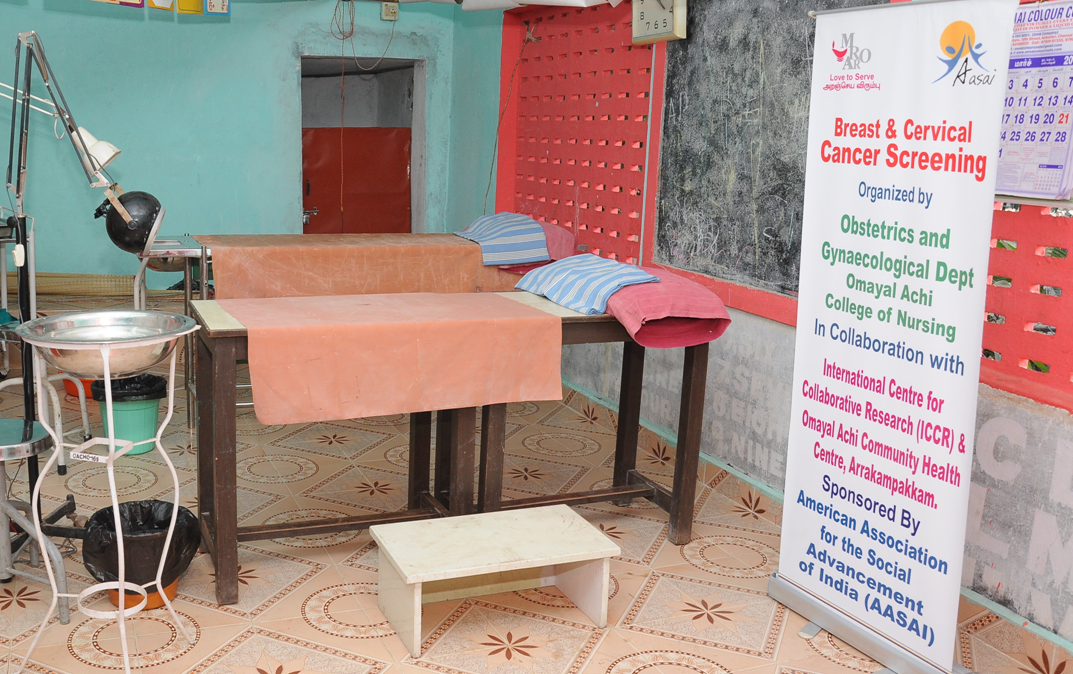 Intensive health care services are provided to 18 villages by the Health Centre benefiting more than 20,000. For conducting the screening with state of the art techniques, AASAI provided financial support to buy advanced Colposcopy-Digital equipment and financial support additional equipment and clinical services.
The camp has identified several positive cases which could have been unnoticed before. Your support is vital for saving many lives.